Blown-In Cellulose Insulation Installation in Rockland, MA​
A Safe Way to Insulate Your Home or Business
If you thought insulation was an unnecessary addition to your home, think again! Being able to control your home's temperature is much harder without it, and there are more than a few benefits that new insulation offers Massachusetts homeowners. Blown-in cellulose is one of the most reliable forms of insulation out there. It is installed by blowing the material into cavities within your walls or attics. but in order to reap the benefits, it requires a professional installer with years of experience getting the job done to perfection. Advanced Green Insulation can do just that with expert blown-in cellulose installation services! With over 40 trucks on the road each day, you can count on us for speedy, efficient, and reliable insulation installation!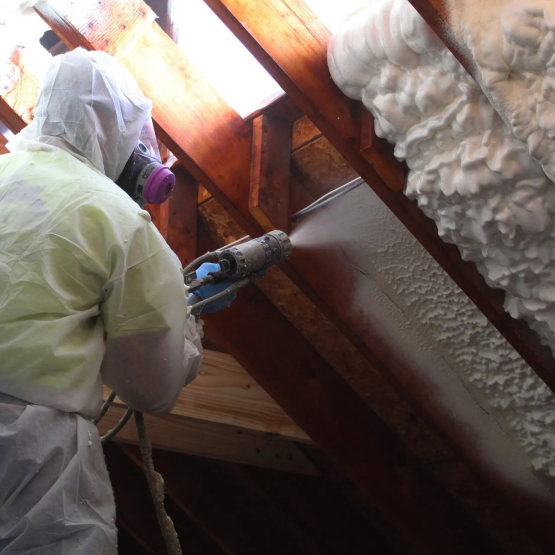 How Does Blown-In Cellulose Insulation Benefit Your Home?
There's a reason why blown-in cellulose insulation is one of the oldest types of insulation available on the market today: because it's so reliable, it has withstood the test of time! Blown-in cellulose insulation can provide many unique benefits to your home. If you install this type of insulation, you'll receive the following upgrades:
Increased Energy Efficiency:

Energy bills can be extremely expensive! Homeowners are always looking for reliable ways to reduce these costs. The more energy efficient your home is, the cheaper these bills will be. Blown-in cellulose insulation helps to increase this quality and reduce the strain on your heating and cooling systems.
Resistant To Fire & Mold:

Blown-in cellulose insulation is treated with a fire retardant known as boric acid, which helps to make it resistant to fires. It has a few useful perks in addition – including making your home less susceptible to mold growth!
Greater Pest Control:

Boric acid also helps to fight off pest infestations! It makes the insulation toxic to insects, which generates a far less pleasant environment for them to thrive in. They won't come anywhere near your insulation!
Choose Advanced Green Insulation For Your Blown-In Cellulose Insulation Needs
There's a reason why professionals are specially trained in insulation installation. If the job is performed incorrectly, problems such as mold and ice dams will form far easier! When you get something as crucial as blown-in cellulose insulation installed, you should be working with a company with years of experience in perfectly fitting this material on a variety of homes.
Advanced Green Insulation perfectly fits that bill! We can send our contractors across New England to ensure that your blown-in cellulose insulation provides your home with the best of these perks. We're proud to offer free consultations to connect you with the most optimal insulation materials for your home's needs. To make your home more energy efficient and comfortable, contact Advanced Green Insulation for blown-in cellulose today!
What Our Customers Are Saying
Advanced Green Insulation were great.
They sprayed closed cell insulation in my walls, roof and floor. They did an awesome job. Very neat, clean and very professional.
We worked with advanced green to insulate our entire house, basement and attic after a renovation.
Tony was our account manager and he was amazing! He was friendly, responsive and very accommodating with the price. The team that did the insulation were respectful of our home, worked quickly and did a great job!! We are very happy with our decision and recommend to all our family and friends.
They spray foamed my 17'x17' Kitchen during my remodel using open cell foam.
The guys were fast , clean and personable. Remodeling my Master bedroom so I will be calling them again.
They spray foamed my renovation. They were quick and tidy.
They took their garbage away when they left. They made quick adjustments to the job when a change was needed. Very professional.
Sergio and his team did a great job. Neat and clean work.
Competitive price and got the job done quick! Highly recommended for spray foam insulation, new construction or remodels.