Fiberglass Insulation Installation in Rockland, MA​
A Safe Way to Insulate Your Home or Business
If you were to ask a homeowner what their biggest source of financial strain was, what do you think they would say? We're willing to bet that it's their monthly energy bill costs! Keeping your home comfortable throughout the unpredictable seasons that New England brings would usually require a lot of energy. Insulation is a fantastic option if you're looking for an effective way to cut down on energy costs and make your home more comfortable for cheaper. Advanced Green Insulation can fit your home with state-of-the-art fiberglass insulation for homeowners across New England!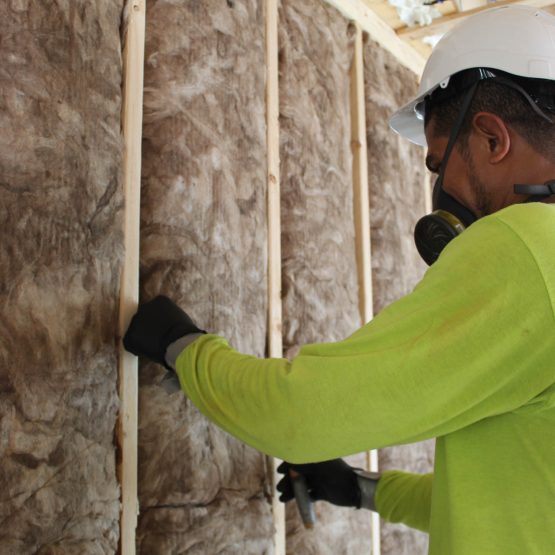 What Is Fiberglass Insulation?
Fiberglass insulation is usually made of 20-30% consumer recycled glass, which is both environmentally friendly and energy efficient. Fiberglass itself is made of tiny glass fibers that are worn into a fabric-like material to use as insulation. It can be installed pretty much anywhere in your home and is an effective tool for regulating the temperature without straining your heater or AC unit.
Benefits of Fiberglass Insulation
Fiberglass insulation has some unique perks that set it apart from other types of insulation. See why you should pick it for your home in MA, RI, NH, CT, or ME below!
Easy To Install:

Fiberglass insulation is incredibly flexible, which means that it can be installed pretty much anywhere in your home! Our recommended best uses for fiberglass insulation include within your attic, floors, basement, and exterior walls.
Eco-Friendly:

Fiberglass insulation is made with a sustainable material! You won't have to worry about making a negative impact on the environment with this insulation – it's made with the environment in mind!
Traps Air & Noise:

Fiberglass insulation traps the airflow from the outside in its pockets, which eliminates the transfer of air from outside to inside. The same is true for outside noise – no more having to deal with loud noises at night!
Energy-Saving:

Fiberglass insulation can save you a ton of money on energy bill costs. They improve your home's energy efficiency by a significant percentage, and you'll see this reflected when you get your bills in the mail!
Choose Advanced Green Insulation For Fiberglass Installation in New England
In order to reap the benefits that fiberglass insulation can offer your New England home, you'll need the most trusted professionals with considerable experience in installing it. Advanced Green Insulation has spent years helping New England homeowners install fiberglass insulation in their homes, saving them money and helping them live more comfortably in the process. There is so much to love about fiberglass insulation – and you can experience the benefits too! Simply contact Advanced Green Insulation today for top-tier fiberglass insulation!
What Our Customers Are Saying
Advanced Green Insulation were great.
They sprayed closed cell insulation in my walls, roof and floor. They did an awesome job. Very neat, clean and very professional.
We worked with advanced green to insulate our entire house, basement and attic after a renovation.
Tony was our account manager and he was amazing! He was friendly, responsive and very accommodating with the price. The team that did the insulation were respectful of our home, worked quickly and did a great job!! We are very happy with our decision and recommend to all our family and friends.
They spray foamed my 17'x17' Kitchen during my remodel using open cell foam.
The guys were fast , clean and personable. Remodeling my Master bedroom so I will be calling them again.
They spray foamed my renovation. They were quick and tidy.
They took their garbage away when they left. They made quick adjustments to the job when a change was needed. Very professional.
Sergio and his team did a great job. Neat and clean work.
Competitive price and got the job done quick! Highly recommended for spray foam insulation, new construction or remodels.