Spray Foam Insulation Installation in New England
A Safe Way to Insulate Your Home or Business
Any homeowner in New England can tell you what their biggest financial pain point is: their monthly energy bills! As energy costs continue to rise, homeowners are looking for effective and innovative ways to alleviate their wallets. However, there's a hidden cause of these rising prices that you may not be aware of. Is your home properly insulated? If not, Advanced Green Insulation can provide spray foam insulation installation services for all of New England!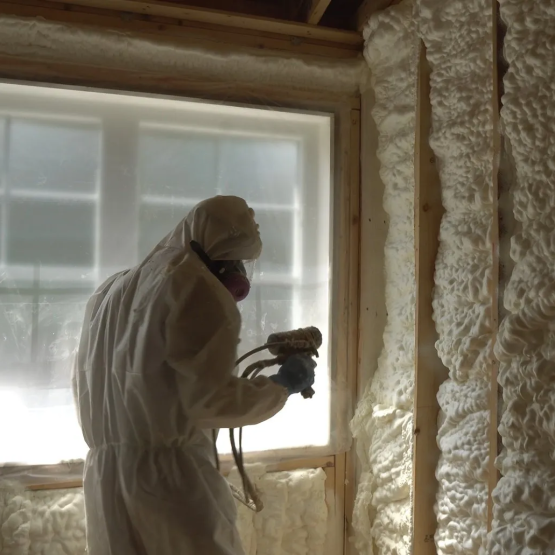 How Does Spray Foam Insulation Work?
Spray foam insulation is one of the most effective types of insulation to install for a big reason! When spray foam comes into contact with oxygen, it expands to fill in the space around it. This makes it incredibly effective at filling in the small cracks and crevices that other types of insulation don't reach as easily. Spray foam insulation expands to many times its original size, creating an airtight seal that prevents heat loss and combats air infiltration. If you're looking for a way to increase your home's energy efficiency, spray foam insulation has you covered!
The Two Types of Spray Foam Insulation
There are two main types of spray foam insulation – both of which we can install for you in New England! They are open-cell foam insulation and closed-cell foam insulation. Each has different benefits to offer, so it's important to know the difference to help your home perform at its best! We'll explain the details for you below!
Open-Cell Spray Foam Insulation Installation in Rockland, MA
Open-cell spray foam insulation is made up of foam cells that aren't enclosed. They aren't as effective at keeping out moisture as closed cells, which means that the best application for them is used in interior walls. Since there is less material required for the installation, open-cell foam insulation is less expensive. The biggest highlight of this type of insulation is its superior soundproofing abilities. You'll never have to worry about unwanted noise from another room or outside!
Closed-Cell Spray Foam Insulation Installation in Rockland, MA
Closed-cell spray foam insulation, as its name suggests, involves enclosed foam cells that create an airtight seal around the installation area. While it's a little more expensive than open-cell, you're paying for the superior insulation quality! It's highly effective at preventing air and moisture from infiltrating your space – and it also helps keep mold out! This type of spray foam works best on exterior walls and helps keep your home energy efficient for years to come.
Choose Advanced Green Insulation For Your Spray Foam Insulation Needs in New England
Getting the biggest perks from spray foam insulation means working with an insulation company with years of experience installing it. Advanced Green Insulation services Massachusetts, Rhode Island, Connecticut, New Hampshire, and Maine with spray foam insulation installation services! We'll ensure that every square inch of your walls is covered and protected, increasing your home's energy efficiency and making it a more comfortable space. To reap these benefits for your home or business in New England, click here to contact us directly!
What Our Customers Are Saying
Advanced Green Insulation were great.
They sprayed closed cell insulation in my walls, roof and floor. They did an awesome job. Very neat, clean and very professional.
We worked with advanced green to insulate our entire house, basement and attic after a renovation.
Tony was our account manager and he was amazing! He was friendly, responsive and very accommodating with the price. The team that did the insulation were respectful of our home, worked quickly and did a great job!! We are very happy with our decision and recommend to all our family and friends.
They spray foamed my 17'x17' Kitchen during my remodel using open cell foam.
The guys were fast , clean and personable. Remodeling my Master bedroom so I will be calling them again.
They spray foamed my renovation. They were quick and tidy.
They took their garbage away when they left. They made quick adjustments to the job when a change was needed. Very professional.
Sergio and his team did a great job. Neat and clean work.
Competitive price and got the job done quick! Highly recommended for spray foam insulation, new construction or remodels.